A sense of safety is one of the most basic human needs, personal and property safety are integrated into that sentiment as well. And this is exactly why people install security systems in their  homes and businesses. 
Compared to conventional sensor-based alarm systems, a surveillance system that utilizes cameras has several advantages: the ability to watch events in real-time, obtaining key data around those events, and providing solid and accurate evidence for law enforcement.
By adding a touch of intelligence to Hikvision's popular cameras and video recorders, AcuSense technology makes these products your perfect choices for an accessible and intelligent security system!
WHAT'S HIKVISION ACUSENSE TECHNOLOGY
WITH ACUSENSE TECHNOLOGY COMES POWERFUL FUNCTIONS
-1-
Accurate Alarm for Human and Vehicle
Users can focus on alarms triggered by humans and vehicles while false alarms triggered by small animals or other irrelevant objects are vastly reduced.
-2-
Visual and Auditory Warning
On-site response and deterrence methods using visual and customizable auditory warnings add another layer of protection.
-3-
Search Targets Quickly by Type
Video clips are sorted by human and vehicle categories, and object classification vastly improves search efficiency.
Accurate Alarm for Human and Vehicle
Conventional surveillance systems provide certain detection features enabled by video content analysis (VCA), such as motion detection, line-crossing detection and intrusion detection, but, would simply compound all event detections, triggering frequent alarms when an object is detected. This could be an animal, a shadow, or other natural movements – we call them false alarms. As a result, you need to spend time to investigate each one, potentially delaying any necessary response and generally affecting efficiency.
So being able to identify the real threats – the presence of a human or a vehicle – would greatly improve the accuracy of perimeter VCA functions. Hikvision's hassle-free AcuSense technology can help achieve this goal, and give you a cost-effective way to protect your locations and assets.
Search Targets Quickly by Type
In most cases, you will be looking for video clips that captured some human or vehicle activities. With AcuSense devices, this gets easier.
Video clips are already sorted into the "Human Files" and "Vehicle Files." Just simply click one of these categories and use time or location to quickly locate the clip that you want. Compared to the conventional method which displays all video files, AcuSense makes searching more efficient.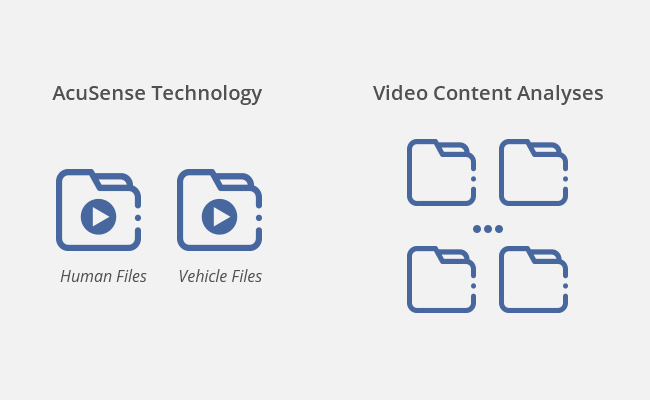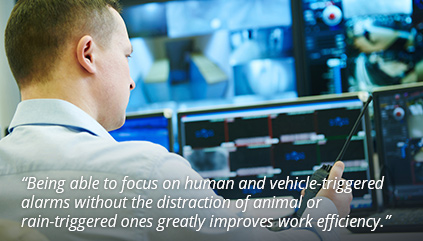 Alarm Receiving Center / Monitoring Center
Security monitoring is never an easy task, especially when you're responsible for watching over multiple locations at the same time. AcuSense products can help bump up efficiency and improve workflow.
For Burglar Alarm Service
Accurate alarm for human intrusion events only.
For Playback and Video Search
Quick search for human or vehicle-related video through sorted folders.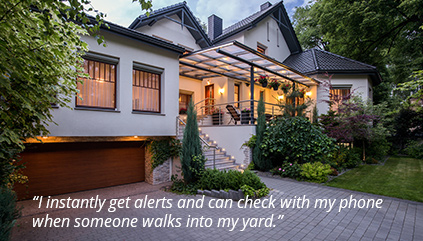 Villas
Whether you choose to keep an eye on the house yourself or hire a professional service provider to look after your home, there are two functions you will surely want to have:
Prompt Notification via Smartphone
Check alarm information and view live video feed.
Light and Sound Intruder Deterrence
React to intrusion events with a flashing light and customizable siren.
Factories
Factories and warehouses store high-value raw materials or commodities. Security here is crucial. However, there is usually only limited manpower to perform such tasks. AcuSense devices offer an alternative solution that's both effective and efficient.
Replace Security Patrols with Camera Monitoring
Accurate Trespassing Alarm for Human Targets
AcuSense devices can be set to send alerts only upon the detection of a human intrusion event. Animals crossing will no longer trigger the alarm.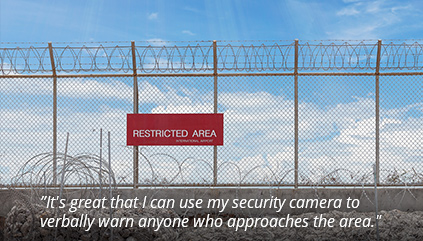 Restricted Areas
Restricted areas or dangerous areas usually have signage to warn people of danger. People ignore these signs from time to time, resulting in serious consequences, trespassing in high-security zones, or enduring unfortunate incidents.
Customizable Audio Warning
With an AcuSense camera, you can customize an audio message to be played when the camera detects someone attempting to enter the area. The human voice is a much more powerful warning compared to just a written sign.
Continue Shopping