At 10th April, 2019 we headed to Las Vegas. where #TeamTiandy# showcased our latest and greatest innovations at ISC West 2019. Our product lineup is one most people do not want to miss, so we attract more than 400 visitors to Tiandy booth. The technologies we presented including advanced AI technologies and latest Super starlight technologies. As the pioneer of Starlight and Super starlight technology, this year we bring "Starlight AI" solutions, which can be a 24 hours full time AI solution.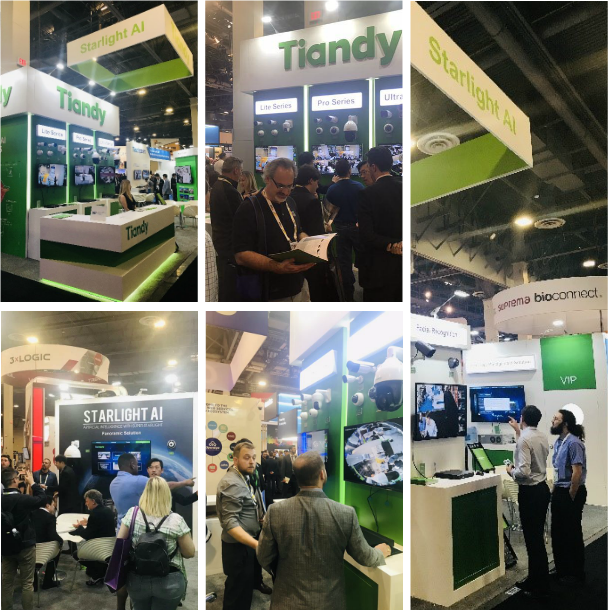 New products being featured at ISC WEST
Here's an overview of the new product areas which Tiandy showcased.
1. Tiandy Latest NVR
Tiandy NVR have add the new value to enable Plug&Play with main manufactures' cameras, from 4ch expend to 7ch max, together with Tiandy S+265,saving the cost and work of end users.
2. Multi-Sensor Super starlight
Tiandy Multi-sensor Super Starlight 4.0, with the best image quality by TVP technology, is the best ever starlight product. The double light-channel design is a revolution. Which makes it possible to have full color image at almost no light conditions.
3. AEW technology
Traditional camera can only record what happened, Tiandy AEW technology gain-power for cameras, help it do positive protection before intrusion happen, trigger alarm when intrusion is going on and even check after. To give full protection.
4. Smart [3] Technology
Smart Coding: Smart detect dynamic and static image, save bandwidth 50% more.
Smart Picture: Make sure important information clear enough, for example people face
Smart Detection: Indoor camera people shape built in, only people move cam trigger motion detection to avoid Animal or flying objects cause false alarm
5. Face Recognition
With full face recognition solution, Tiandy showcased Face recognition IPC and NVR for school solution, stuff attendance and access control, Star product TC-R5105 I/F NVR attracted a lot of curiosity, which is the most economical solution for face recognition, equipped with speaker and mic, help users get the most direct information from face recognition result and can do two-way intercom.
Continue Shopping